2014 was an exciting and action-packed year for the zombie genre, but nowhere did it seem more lively (heh) than on the small screen. Television has become one of the most concentrated sources of reanimated corpses and their ilk, and here are three highlights of the 2014 zombie television apocalypse!
The Death of Beth Greene, THE WALKING DEAD, "Coda"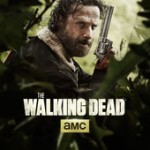 In the build-up to THE WALKING DEAD Season 5 midseason finale, fandom had pretty much decided it was a binary choice: Either Carol or Beth were facing the final curtain in the episode titled "Coda." Some of us were even theorizing on the musical nature of the title (Beth, after all, was a singer), but when it happened, it not only sent waves of anger and grief through the fan community but led to continued outcry and even an online petition demanding the character be brought back. While that won't be happening, the reaction speaks to the power of the show itself and Emily Kinney's performance as Beth that a fictional death could have such impact. This is why the zombie genre matters as much as it does; the zombies aren't real, but the exploration of human nature reaches us in our hearts and always will.
"Coda" – The Walking Dead Season 5
The Doctor of the Dead Emerges, Z NATION, "Doctor of the Dead"
Naturally we were excited here at the DOCTOR OF THE DEAD podcast when Z NATION producer Jodi Binstock tweeted months earlier that the final episode of the fun new zombie show's first season was "named for you." But when the Season 1 finale aired, "Doctor of the Dead" not only turned out to be an installment packed with action, revelations, and stunning multiple cliffhangers, but it centered on a tour-de-force performance by Donald Corren as the eponymous villain that shares my nom de plume! I couldn't be prouder to welcome him to the ranks of the Doctors of the Dead, and we can't wait to see where Z NATION goes in its second season next year!
OUR EPISODE ON "DOCTOR OF THE DEAD"
"Doctor of the Dead" – Z Nation Season 1
IN THE FLESH Wins RADIO TIMES Online Poll for 2014 "TV Show Champion"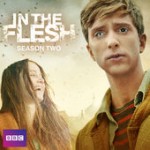 Handily defeating powerhouse cult hits like DOCTOR WHO and SHERLOCK, the brilliant and socially relevant IN THE FLESH proved it was the little zombie show that could, winning the RADIO TIMES poll thanks to a dedicated fan base that continues to demand the series rise again. Ending on an agonizing cliffhanger at the end of Series 2, the show's fate has been up in the air due to various factors (including the uncertain future of its channel, BBC3), but if audience support is any indication, we all want to see the saga of the PDS sufferers of Roarton go on! Here's to the next Rising!
ONE OF OUR EPISODES ON "IN THE FLESH"