We're taking the G2V website to another level with all-new contributors and content, and we hope you'll want to come along for the ride! From all the genres you love (sci-fi, horror, fantasy) to all the kinds of media you enjoy (movies, television, comics, gaming, and more), G2V is "everything pop culture under the sun," now more than ever!
In order to be up to date with all the new things we're posting, we're asking all of you to stay connected with us on social media via Twitter and Facebook. And to encourage you to follow our various Twitter accounts and Facebook Pages, we're going to run a little contest…starting NOW!
Click the link below (from the good folks at Rafflecopter), and for every action you take – every Twitter account follow or Facebook Page "visit" (and while you're there, please feel free to Like the pages too) – you get an additional entry into the big giveaway. And what do you win?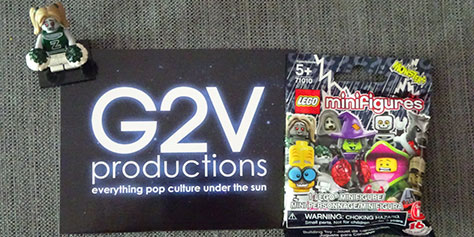 Three entrants will be chosen to receive a now retired, rare, and super-cool LEGO Series 14 Monster Minifigure, still sealed in its original bag and personally selected by the Doctor of the Dead himself! We have NO idea which figure you'll get, but you could wind up with a Zombie Cheerleader, a mutated Fly Guy, a hairy Squarefoot, or any one of 13 other possible tiny horror icons!
Enter today, enter often, and join us as G2V launches a whole new era of pop culture excitement!