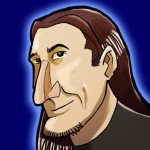 If you're a Dungeon Master who's been looking for some new and inexpensive options for tabletop miniatures, there's a new game in town in the form of TRASH MOB MINIS from artist Jess Jennings!
Recently, I caught up with Jess to find out a little bit about him and his new line of print and play miniatures. Jess is no stranger to G2V Productions; he created the caricatures of Arnold and me that you see all over G2VPodcast.com and our various social media accounts. Read on for our full chat, and click here to order your own sets of TRASH MOB MINIS!
G2V: Jess, thanks for taking some time out of your busy schedule to chat with us about TRASH MOB MINIS. What's your background and what inspired your very unique style?
Jess Jennings: I have an animation degree, so I tend draw like an animator, focusing more on pose and silhouette to capture a character, and minimizing as much "interior" detail as possible. I find that this translates really well to paper miniatures, because individual scales on a 2-inch tall dinosaur might not look all that great when printed.
What motivated you to create TRASH MOB MINIS?
Aside from simply wanting to draw tons of monsters, I wanted to solve some problems I've encountered in my nineteen years of tabletop gaming, the rising cost of miniatures being an obvious one. I want to provide gamers with the exact mobs they need without worrying about the price. A small bonus attached to playing with minis from a PDF is that if your models get lost, stolen, or destroyed, it's no big deal. You just print out and assemble some more.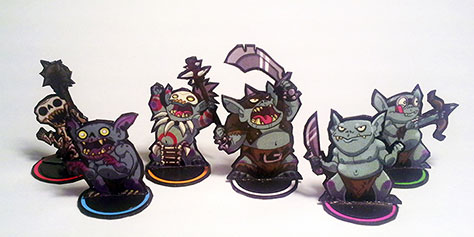 Another thing I set out to do with the line was offer a simple tracking method for Dungeon Masters. It seemed that whenever our adventure party would encounter hordes of trash mobs, it often became difficult keeping track of all the identical monsters on the table. To help with this, I include different colored base discs with every set, so the DM can easily track which monster is being targeted by their base color. Last February, I posted some of my test builds on Tumblr, and a member of the Cardboard Warriors forum pointed me towards an entire community of paper modelers. They've really been great at helping me and encouraging me to publish.
How many mini sets can we expect to see in the coming months?
Two sets are already live and can be purchased right now: The Goblins: Army Pack and the Scales & Slime: Theme Pack. I have six other sets that are in various stages of development. I'm aiming to release at least one set a month. There are some really great monsters on deck, and lots of classic mobs like orcs and kobolds to look forward to. I have some more advanced sets planned as well, like a dragon model kit, and cavalry sets with removable riders.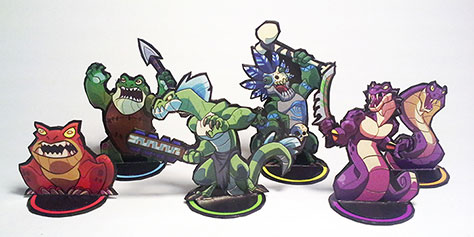 How difficult is it to construct these figures? What sort of tools does one need to build them?
I wouldn't say these models are all that difficult to construct, but they do take a little skill and patience to put together, especially for the smaller creatures. Fortunately, many figures come printed on each page, so novice modelers have plenty of guys to practice on. Everything you need to make a mini can be found at any local craft store: A pair of good scissors, an X-Acto knife and plenty of spare blades, a glue stick, and a black magic marker or brush pen for edging. I also glue all my bases to cereal box cardboard before I cut them out. Even if you don't have a printer, that's not a problem. I actually do all my final test prints at a local FedEx Office on white card stock.
Can people contact you with suggestions for future models?
Absolutely! The best way to contact me is through Twitter: @TrashMobMinis. I'd love to hear what monsters you guys want to build/field. If I get enough requests for the same creature, there's a very good chance it will show up in a future set!
Finally and most importantly, where can we find TRASH MOB MINIS?
The TRASH MOB MINIS PDFs are sold exclusively through DriveThruRPG. Print out some monsters and populate your battlefield…and don't forget to share your photos!