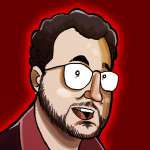 Hi all, some sad news to share. Unfortunately, NIGHT OF THE LIVING DEAD's Bill "Chilly Billy" Cardille has died. While we mourn the loss of a horror icon, we've left our original post intact below, in which Cardille's daughter had asked fans to show support during his illness. Fans did indeed get in touch, and surely his last days were at least partly brightened by the knowledge that he left behind a legacy we won't soon forget.
[ORIGINAL POST]
This was posted yesterday to DAY OF THE DEAD star Lori Cardille's Facebook page concerning her father, none other than Bill "Chilly Billy" Cardille, who we all remember as the newsman in NIGHT OF THE LIVING DEAD:
My dear father, Chilly Billy, Bill Cardille, received a cancer diagnosis that will be quite challenging to say the least. His spirits are tremendous which is not a suprise. I thought it would be nice for dad to know how you enjoyed him during your childhood years or any years for that matter. I want him to feel the love that he so freely gave during his lifetime. Even just a card. You can send it to Chilly Billy, c/o Century Communications 313 East Carson Street , Pgh. Pa, 15219.

Thank you friends. It will mean so much to dad. Please send this along to anyone you know that loved my dad. With a grateful heart, Lori Cardille
For all those of us who never tire of watching NIGHT again and again, and who appreciate Cardille's indelible contribution to a cinematic classic, now is the right time to let Mr. Cardille know how we feel and that we're thinking of him.
UPDATE: You can now read more about Cardille receiving the first good wishes from fans as well as hear from the man himself via video here.