THE PATIENTS
Publisher: Dynamite Entertainment
Writers: Craig Engler & Fred Van Lente
Artist: Edu Menna
Colors: Sal Aiala
Letters: Simon Bowland
THE PATHOLOGY
The popular zombie television series expands into another medium via this new comic book incarnation, co-written by one of the show's co-creators and preserving the TV show's irreverent and action-packed approach to the zombie genre.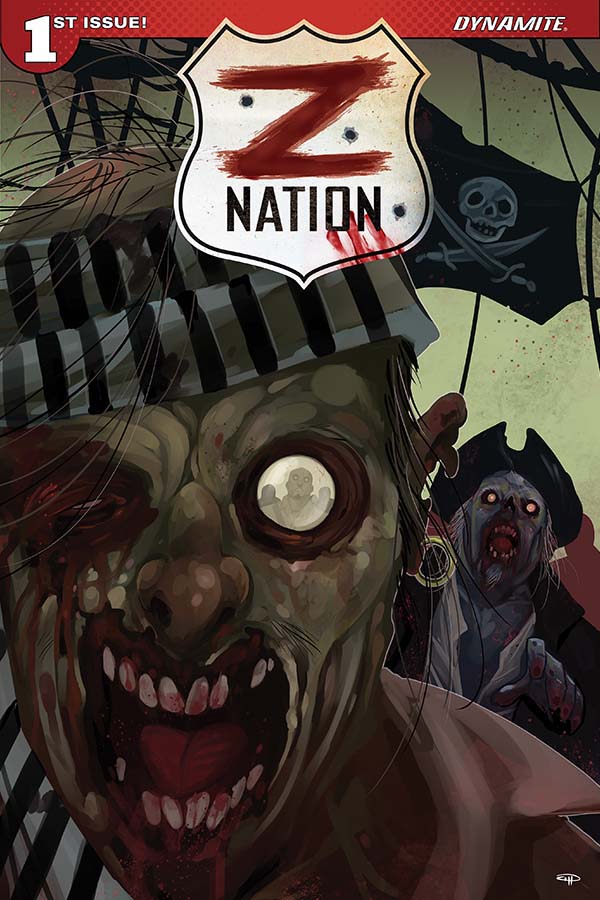 THE PROGNOSIS
"Sea of Death" takes us to a much earlier point in the Z NATION universe than that seen in the current series (debuting its fourth season this fall), utilizing the medium of comics to fill in a previously unknown chapter in that world's apocalyptic history. We're back in Year One, civilization has collapsed, and a National Guard team are dispatched by a very familiar character (you'll recognize this person immediately if you've been watching the show since day one) to obtain a much-needed nutrient known as "Soylent Z." Naturally, it's not going to be an easy trip, and things quickly become very complicated. This first issue ends at the docked "Empress of the Seas," a gargantuan cruise ship whose luck is not likely to be better than the Titanic – but whether it actually sinks or everyone on board just dies is another matter…
This polished debut issue does an excellent job of launching a new adventure while assuring readers that it's still Z NATION deep down in its mutated DNA.
This fast-paced issue quickly rolls out a new team of characters and sends them on their perilous journey while sketching in their personalities and giving readers a chance to get to know them – all the more effective, then, when some don't even make it to the final page. There are one or two who just might emerge as this comic's Murphy or Warren; who knows, perhaps the TV show might even bring a later version of one of these folks onto the small screen! And who's to say we won't encounter earlier versions of our favorite Z NATION heroes here as well?
There are some excellent page designs and coloring techniques throughout, from a shadowy sequence in a warehouse of vital supplies, to numerous action beats in which zombies are dispatched in front of orange starburst backgrounds that might even remind readers of the "BAM POW ZAP" moments in the BATMAN TV show. There's even a character in this story with a very familiar name! Now where have I heard "Blumberg" before, hmm… (and yes, it's an honor!)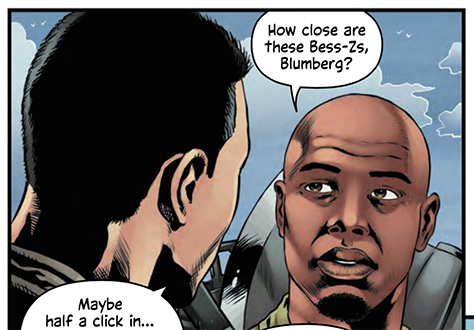 It also wouldn't be Z NATION without a few innovative additions to the vast zombie mythos, and in this issue alone we're introduced to a weapon that could give Addy's Z-Whacker a run for its money, as well as a new zombie species whose natural behavior while alive becomes all the more frightening in unlife. And yes, there are serious stakes, comedic repartee, and even heart-breaking or at least shocking losses.
This polished debut issue does an excellent job of launching readers on a new adventure while assuring them that it's most definitely still Z NATION deep down in its mutated DNA. I'm looking forward to seeing where the rest of this series takes us; there's a great deal of potential to tell many other stories in the Z NATION universe, so there's every reason to believe this comic could run for years to come.
RATING

GET THE Z NATION SERIES AT DYNAMITE COMICS OR YOUR LOCAL COMICS SHOP!