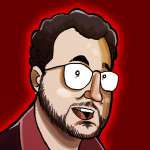 I've been appearing at Walker Stalker Conventions since 2014 (even though I was introduced as a newcomer at the start of this one, but what can ya do), but never before have I had as much fun or been as delighted to be involved in programming as I was this July 9-10 at the New Jersey Convention and Exposition Center in Edison, New Jersey for the 2016 Walker Stalker Con New Jersey! Let me tell you all about it…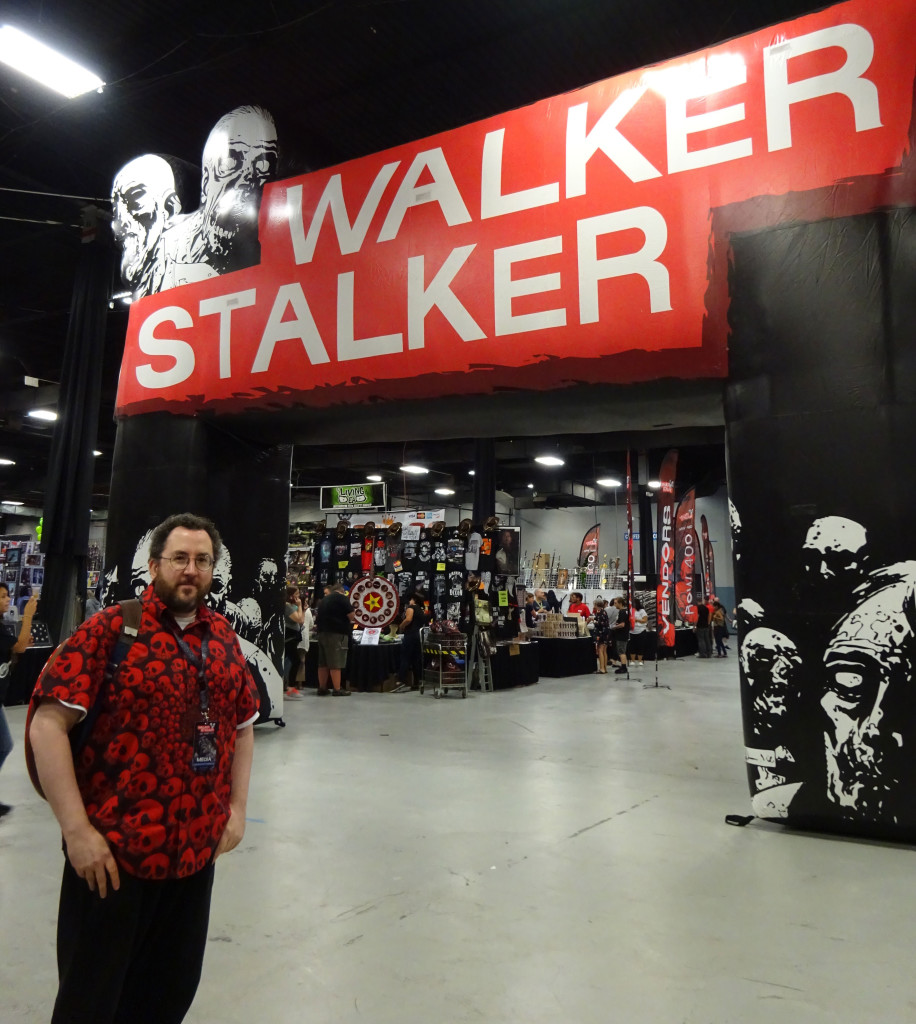 In past years, I've only been able to appear for one day, but fortunately this time I had the chance to work both days of this sprawling show. Having moved the New Jersey event to this location for the first time, the convention clearly benefitted from the increased space, and they had no trouble packing in crowds on Saturday and Sunday. Of course, the number one draw was none other than Daryl Dixon himself, Norman Reedus, but there were many other fellow THE WALKING DEAD cast members in attendance as well as FEAR THE WALKING DEAD cast, NIGHT OF THE LIVING DEAD's Russ Streiner, other actors, artists, vendors, and even a certain world-renowned zombie expert known as the "Doctor of the Dead!"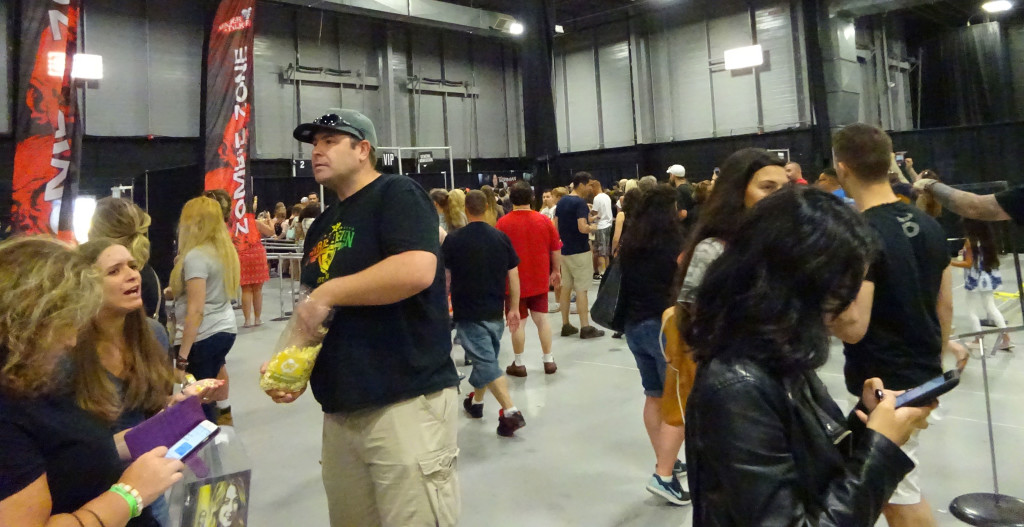 DAY ONE: Saturday kicked off at 10:45am with a roundtable panel in which several of us, including a random fan chosen from the audience, discussed the TWD Season 6 finale and what might lay ahead for our heroes in Season 7. When asked to sum up the series in one word, I mused about it for a moment then realized what it had to be: "humanity."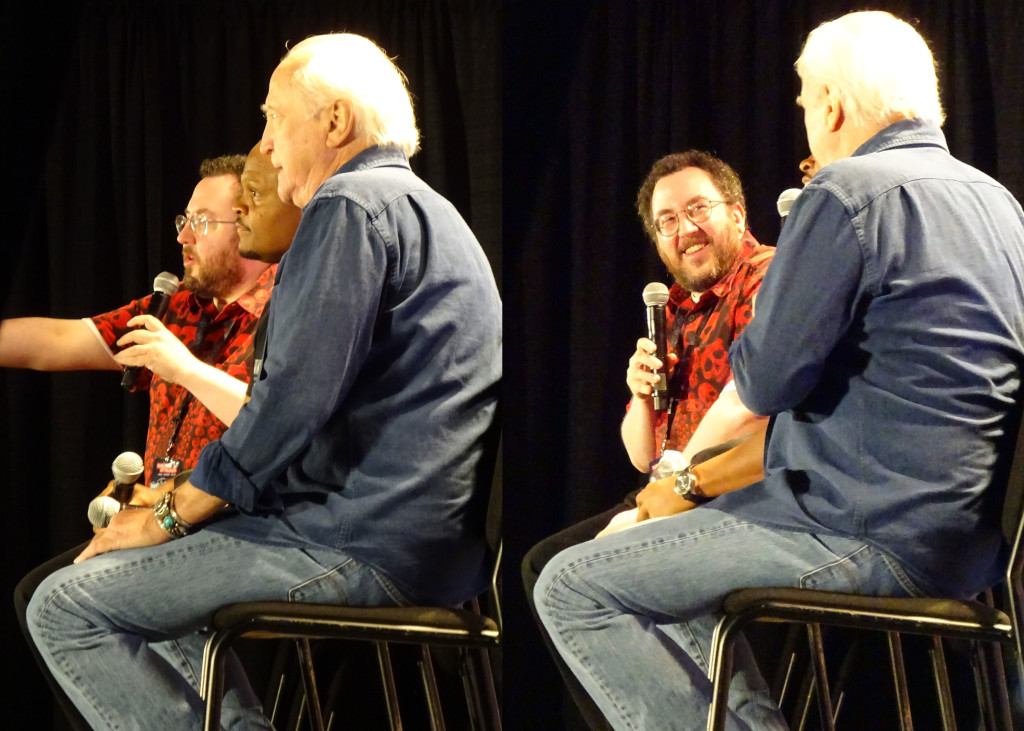 That was supposed to be my one and only panel for Saturday, but I was asked to step in and handle some on-stage interviews when original moderator Jason Cabassi was unable to make it to the show until Sunday. First up, a delightful chat with IronE "T-Dog" Singleton and Scott "Hershel" Wilson at 11:30am. Probably the best part of this panel was discovering what a strong bond these two actors had forged in their short time together on the show.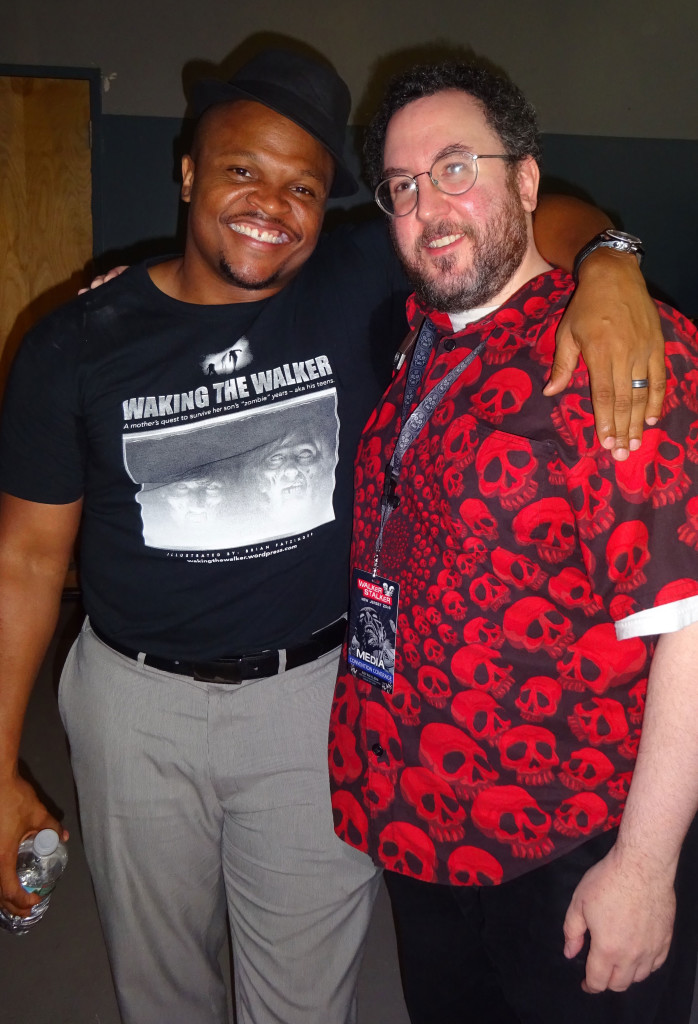 My next panel wasn't until 4pm, so until then G2V's newest contributor Natalie Litofsky and I did a turn or two around the floor, checking out some vendors and discovering just what a huge crowd Norman Reedus had drawn; no shock there. I caught a glimpse of Elvira herself, Cassandra Peterson, and I also had time to say hi to DOCTOR OF THE DEAD guest Roger Ma, author of THE ZOMBIE COMBAT MANUAL.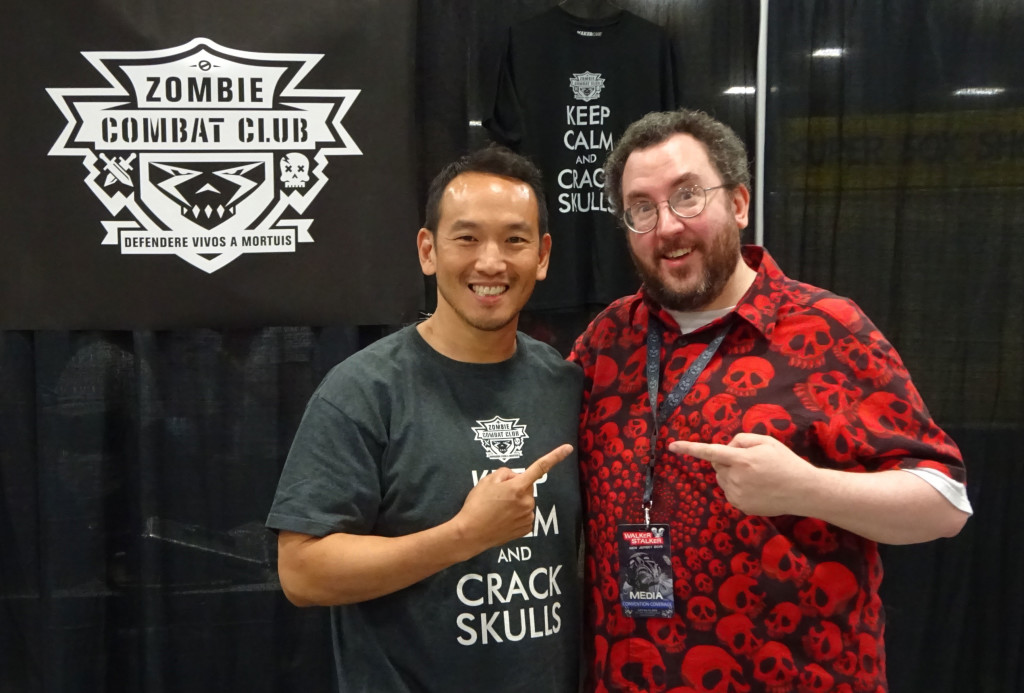 By the time we returned to the stage area, we caught the end of a phenomenal live art presentation by Rob Prior, who dazzled the audience with a dynamic two-handed painting style as he crafted a deadly accurate rendition of Jeffrey Dean Morgan as Negan.
Then at 4pm, it was time to head back on stage to interview Deanna Monroe herself, the incredibly energetic Tovah Feldshuh. From anecdotes about wearing zombie make-up in her final TWD appearance to stories of family and famous career highlights, she kept the audience in rapt attention and even gave them a rendition of "Neverland" from PETER PAN. And then it was time to head out and rest up for Sunday!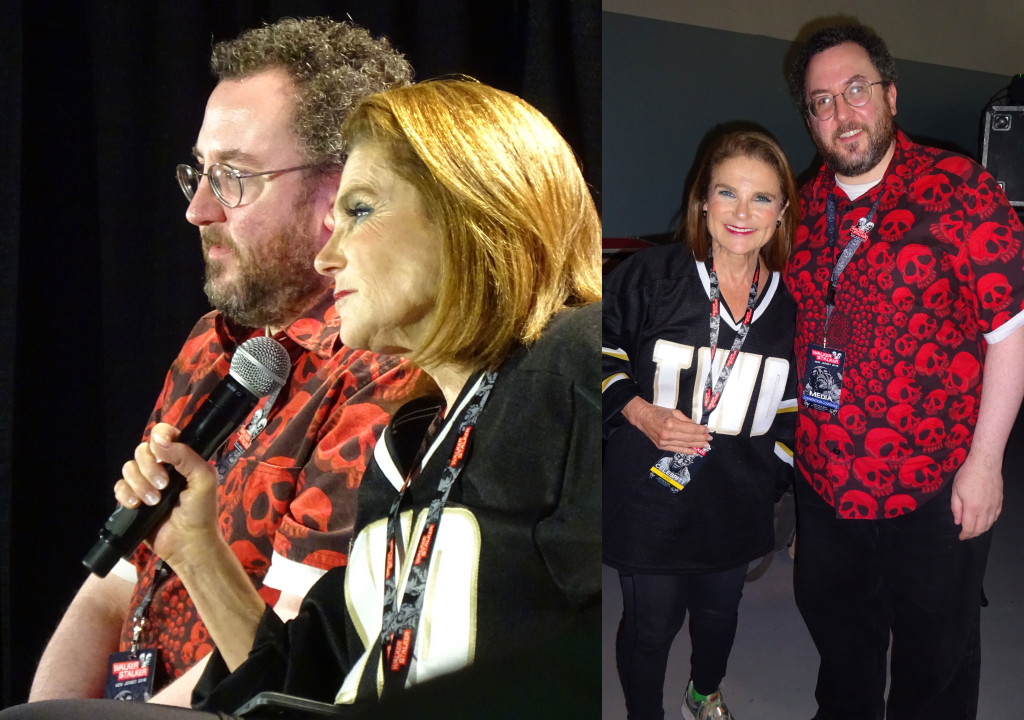 DAY TWO: Although shorter, my Sunday schedule was a perfect capper for a great weekend. At 2pm I took the stage with Jason Cabassi for my very own panel on the "State of the Zombie" in 2016. Talking about ZOMBIEMANIA, my University of Baltimore zombie college course, DOCTOR OF THE DEAD, and my opinions on the current state of zombie film, TV, and beyond, we had a great time chatting about all kinds of zombies living and dead, as well as fielding questions from the audience.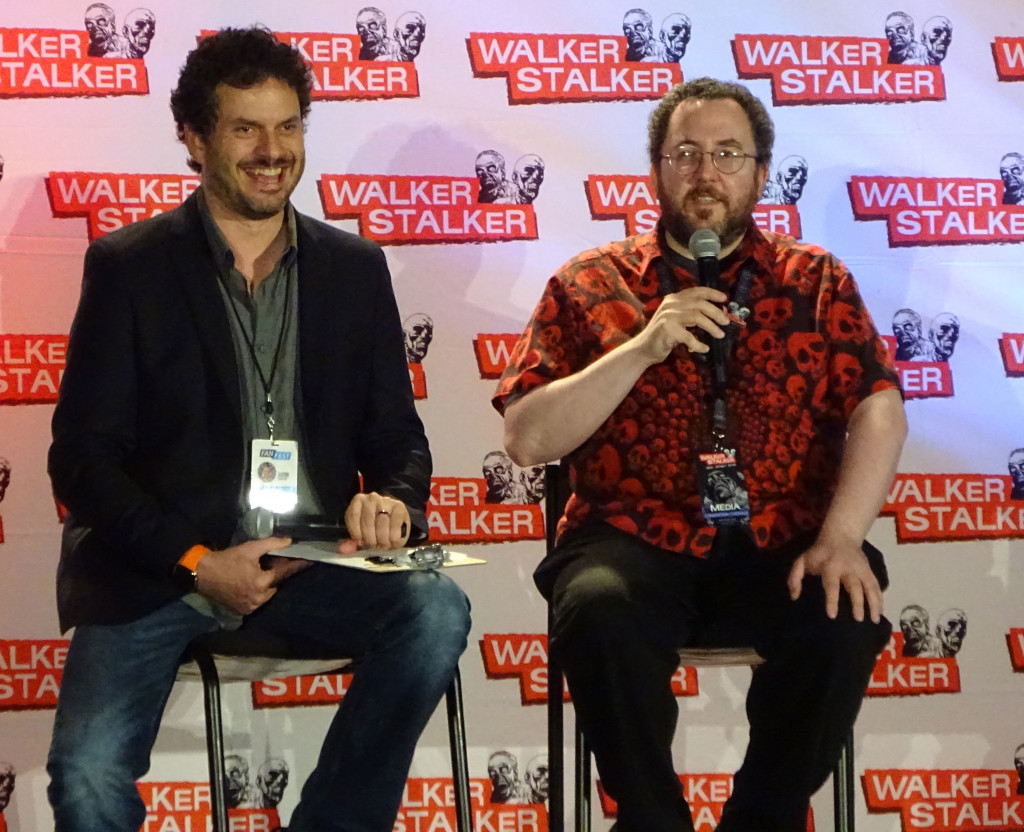 For my final panel of Walker Stalker New Jersey 2016, I couldn't have picked a better interview subject than Tyreese himself, Chad L. Coleman. It was an all-too-short hour of discussion about the craft of acting, the deeper meaning of a show about zombies and post-apocalyptic survival, and even conversation about how artists provide meaningful reflection on our culture in troubled times like these.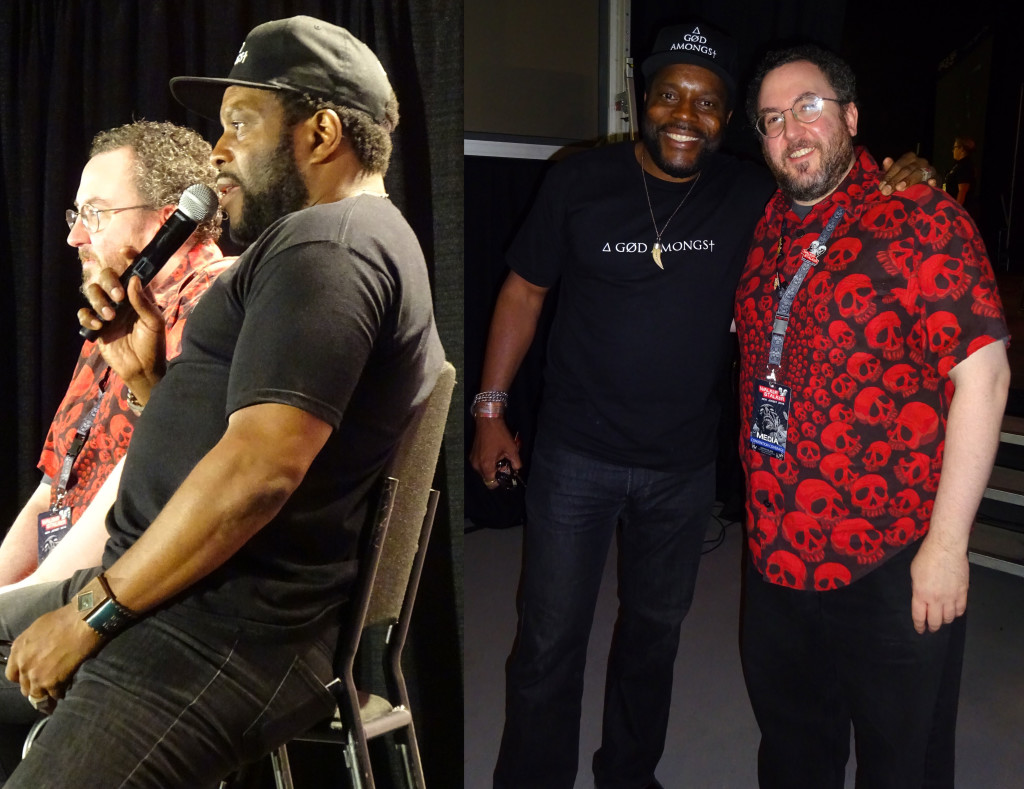 It's also worth noting that Michael "Abraham" Cudlitz and the Walker Stalker team have turned a growing social media fan reference to Abraham's "Bisquick" quip on the show into an impressive charity drive that encourages fans to bring Bisquick and other non-perishable food items, which are then distributed to local food banks at convention's end. And as Cudlitz himself tweeted, the drive is doing very well indeed:
https://twitter.com/Cudlitz/status/752309569917943808
Having spent many years in the comics industry working conventions like the San Diego and New York Comic-Cons, and appearing as a guest at DOCTOR WHO shows since 2001, I can definitely say that in such a short time the Walker Stalker team has distinguished itself as capable of putting on events that are a delight for everyone involved. I look forward to the next time I get to slip on the ol' skull shirt and see everyone again…perhaps Philadelphia in October? Until then!