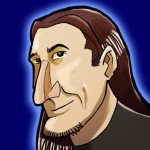 The history of STAR TREK tabletop roleplaying games is a long and complicated one stretching all the way back to 1978 with STAR TREK: ADVENTURE GAMING IN THE FINAL FRONTIER, published by Heritage Models.
Recently, Modiphius Entertainment announced a brand new RPG titled STAR TREK ADVENTURES, set to release in 2017. While we anxiously await this new line, let's fly our Klingon Bird of Prey around the sun and take a little stroll through the history of STAR TREK roleplaying games!
STAR TREK: ADVENTURE GAMING IN THE FINAL FRONTIER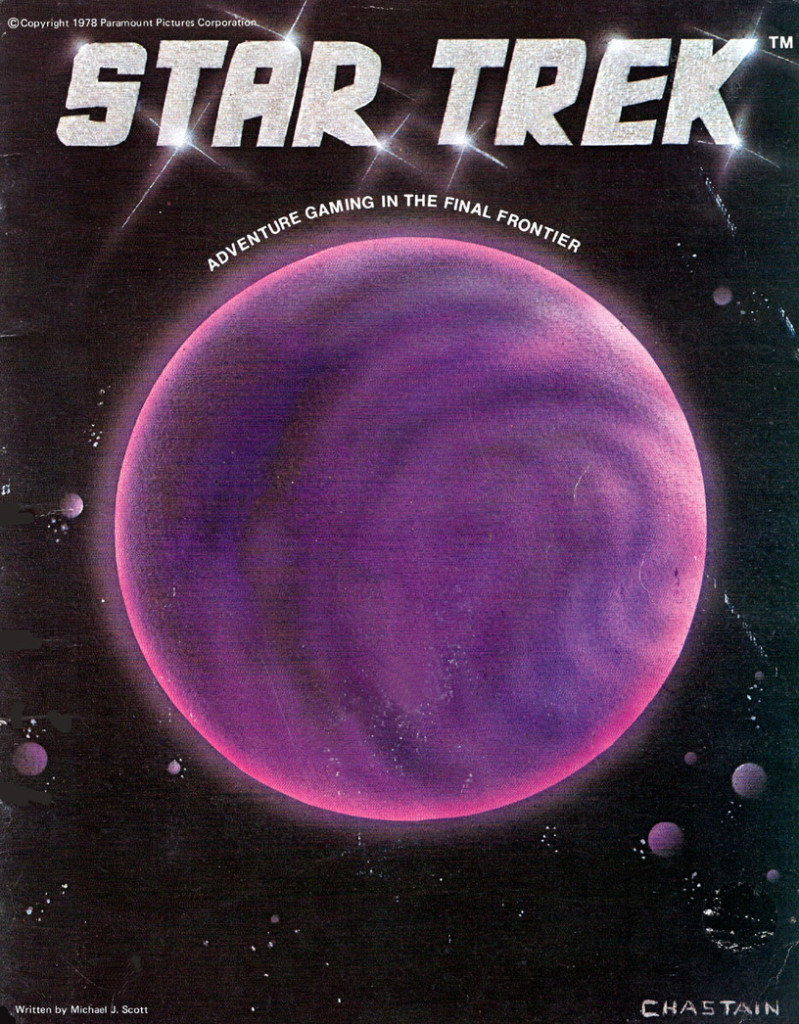 Released in 1978 by Heritage Models, this game was written by Michael Scott and included material from both the original and animated series. The focus of the game was on landing party missions, and there were no rules provided for starship combat. A fairly extensive line of miniatures was also released for the game that included Starfleet officers, Klingons, Romulans, and a number of other alien races. Publication lasted only a short while before Heritage lost the license. Scott later revised the game with some upgrades in 1982 under the name STARFLEET VOYAGES from Terra Games Company.
STAR TREK: THE ROLEPLAYING GAME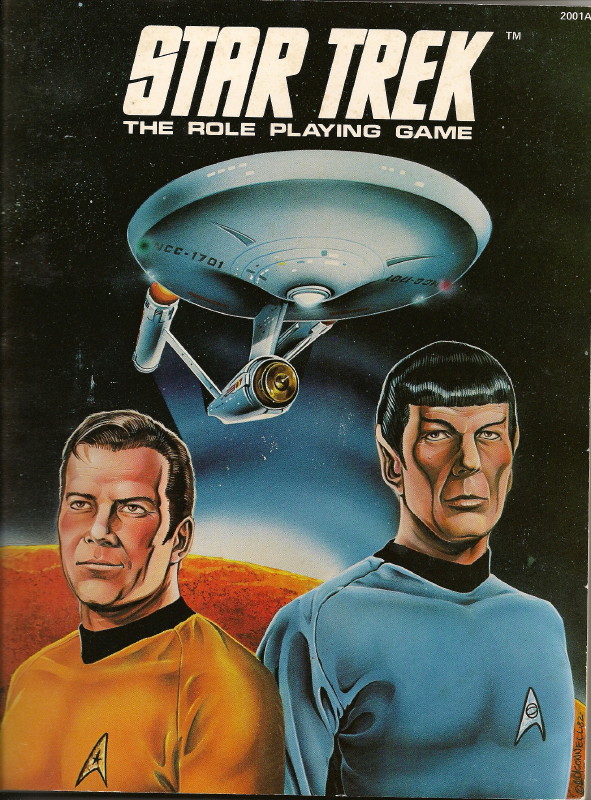 1982 saw the release of one of the most famous and longest-surviving STAR TREK RPGs. Published by FASA Corporation and developed by Guy McLimore Jr., Greg Poehlein, and David F. Tepool, this boxed set launched with great fanfare and wound up lasting all the way through 1989, even spawning a couple supplements for THE NEXT GENERATION). The original set contained three books as well as two counter sheets and dice. Dozens of supplements and adventures were released, as well as tie-in board games, tactical games, and miniatures.
PRIME DIRECTIVE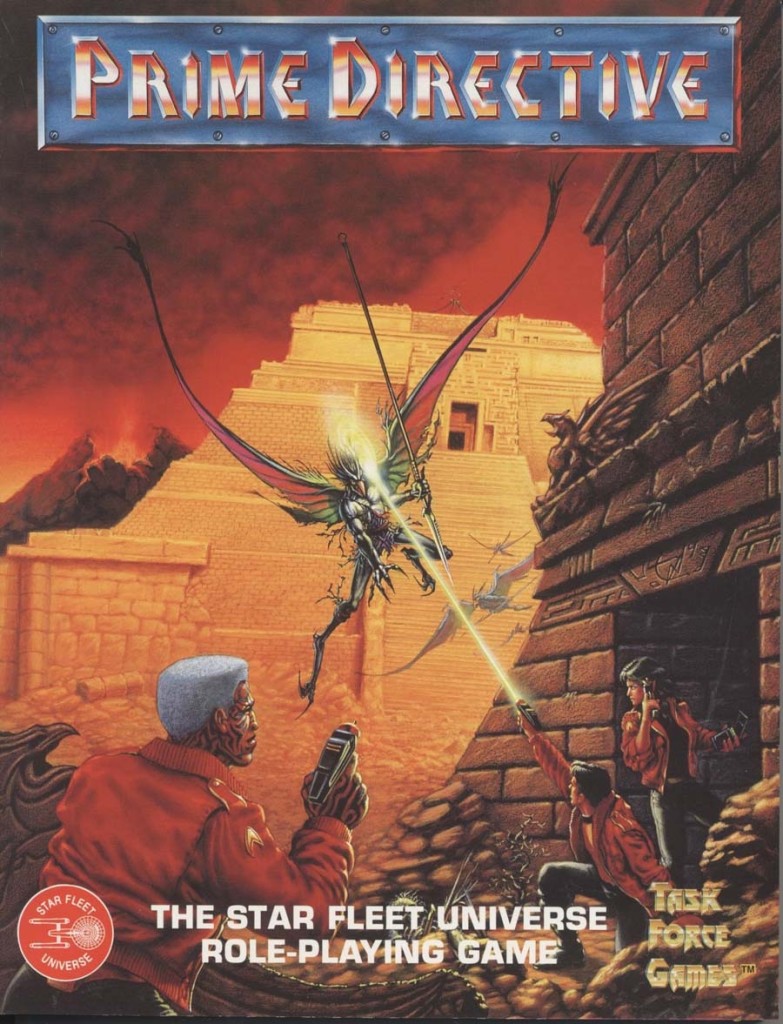 In 1993, the company behind the long-running STAR FLEET BATTLES tactical combat game – Task Force Games/Amarillo Design Bureau – released an RPG set in their alternate TREK timeline based almost exclusively on the STAR FLEET TECHNICAL MANUAL (remember that book with its black vinyl binding)? Thanks to a hazy deal between the creator of that book (Franz Joseph) and STAR TREK series creator Gene Roddenberry, Task Force Games (later Amarillo Design Bureau) was able to publish games using material from that book without interference from Paramount Pictures. PRIME DIRECTIVE was their Star Fleet Universe RPG, and while the original version used their own d6-based system, GURPS and d20 versions of the game have been published. To date, PRIME DIRECTIVE is still very much alive, and if you're interested in a more militaristic TREK variant, you can order the game (and numerous supplements) directly from ADB's online store.
STAR TREK: THE NEXT GENERATION ROLE-PLAYING GAME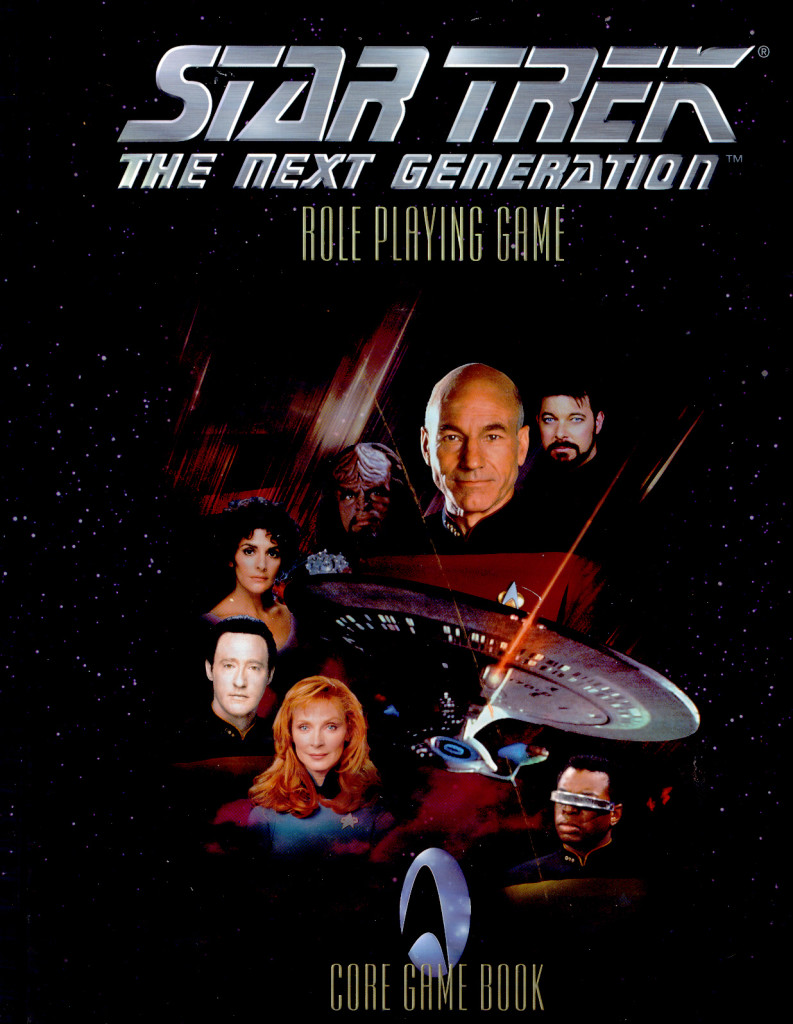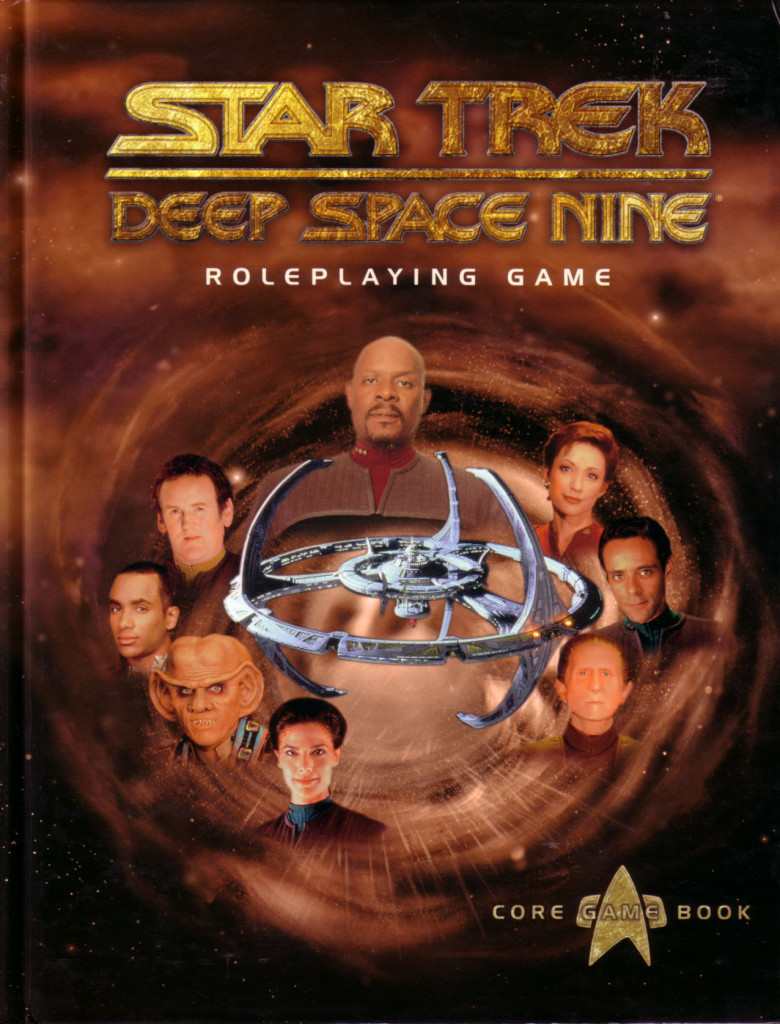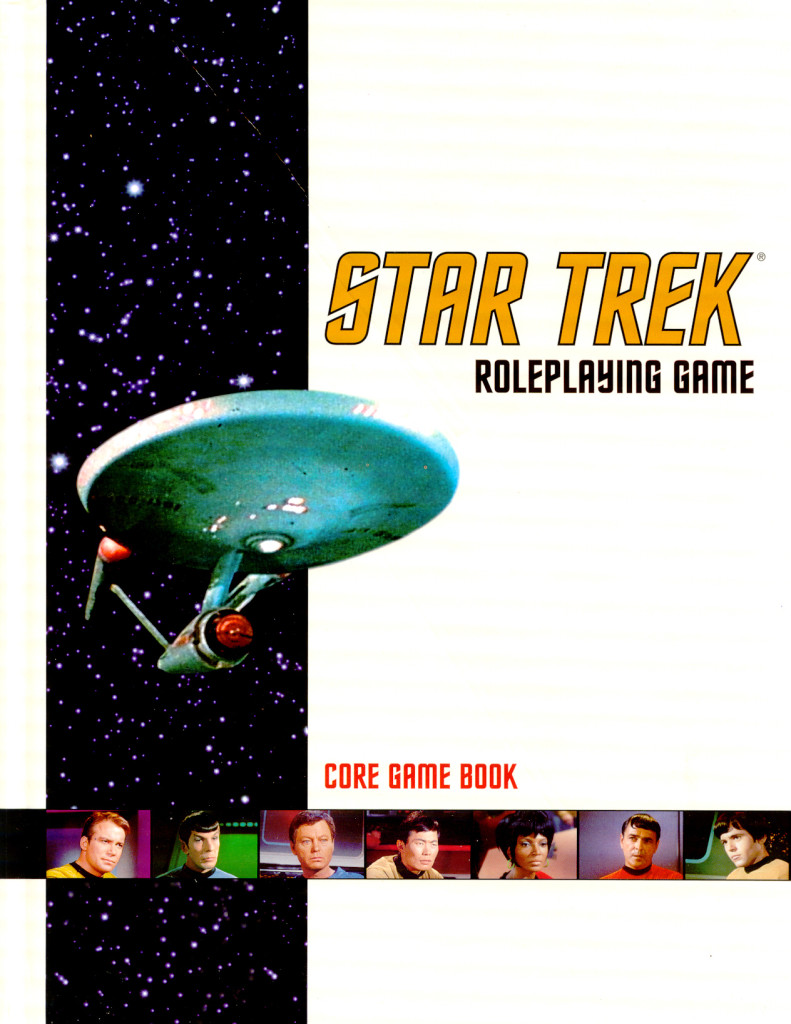 Released in 1998 four years after TNG left our screens, this release from Last Unicorn Games was designed by Christian Moore, Ross Isaacs, Kenneth Hite, and Steven S. Long. It was a lavish, full-color hardcover volume that used their in-house Icon system and also led to the release of the STAR TREK: DEEP SPACE NINE ROLE-PLAYING GAME and STAR TREK: THE ORIGINAL SERIES ROLE-PLAYING GAME. A VOYAGER game was ready for release before Last Unicorn Games was gobbled up by Wizards of the Coast in 2000. Like other TREK games before them, these titles were also supported with some terrific supplemental material.
STAR TREK ROLEPLAYING GAME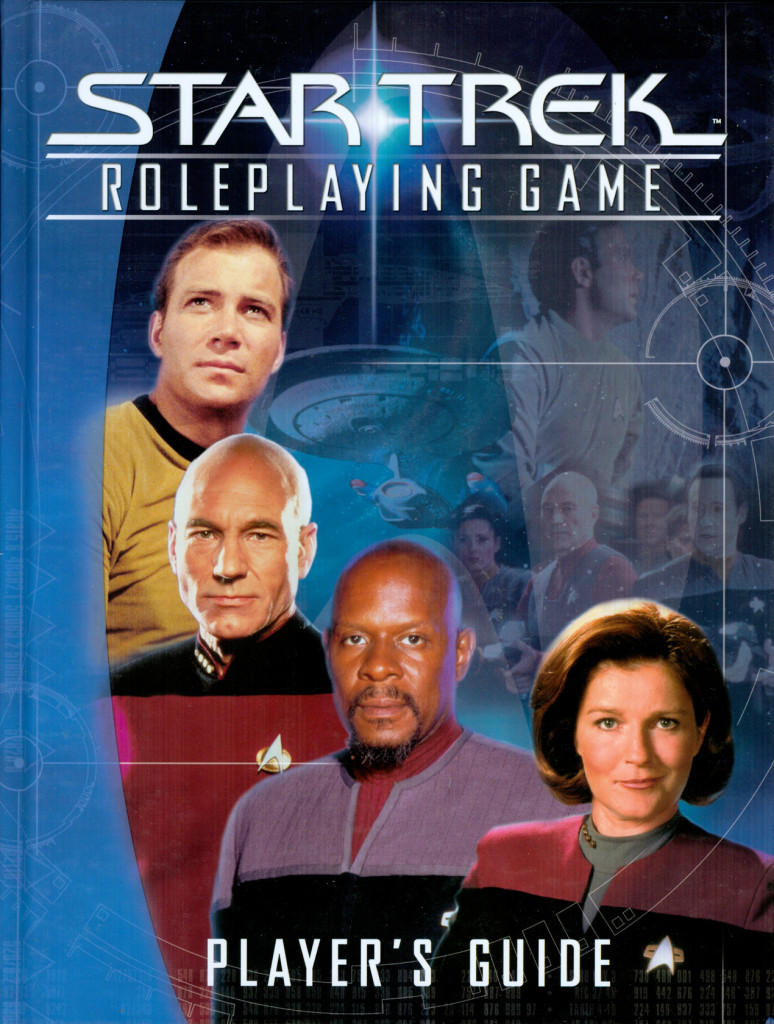 Based around Decipher Inc.'s CODA game system (the same one Decipher used in their LORD OF THE RINGS line), this 2002 release was a nice effort from a company who was known more at the time for their licensed collectible card games. The game was designed by a number of folks, including a few who had recently worked on the TREK products from Last Unicorn. While a handful of impressive supplements were published, Decipher shut down its RPG division in 2007 and the STAR TREK ROLEPLAYING GAME was no more.
STAR TREK ADVENTURES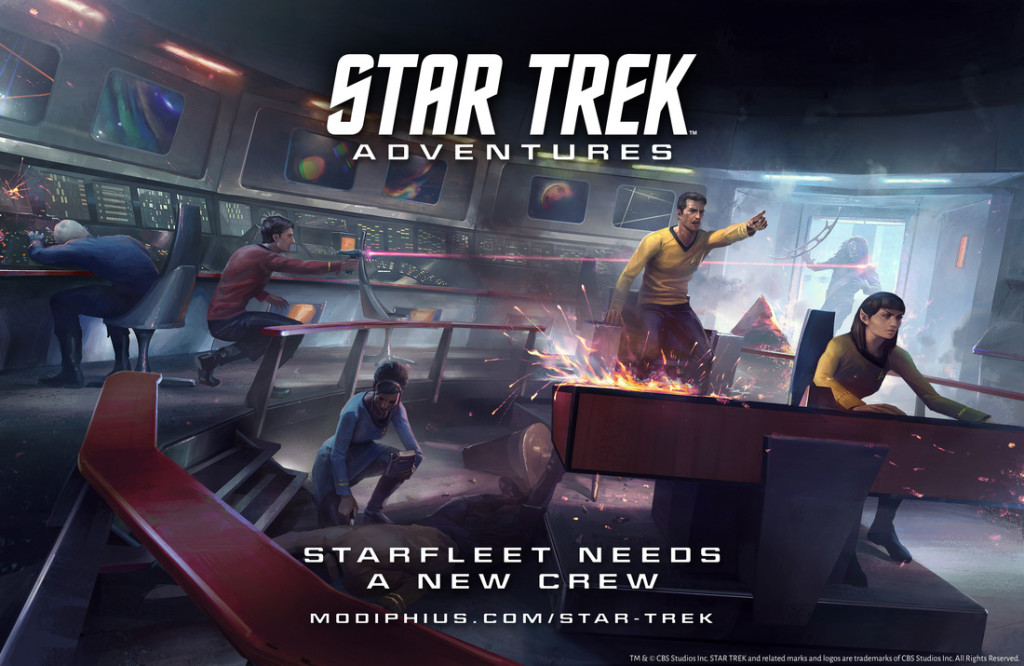 Returning to the present day – and yes, we were able to save the whales on our way back – Modiphius Entertainment will soon be unleashing STAR TREK ADVENTURES in 2017! From what little we know, the game will utilize their 2d20 system, which was designed by Jay Little and used for most of their other games, including MUTANT CHRONICLES, INFINITY, CONAN, and JOHN CARTER OF MARS.
The game will include material from the original series, NEXT GENERATION, DEEP SPACE NINE, VOYAGER, and ENTERPRISE, as well as all of the original crew and TNG movies; fans seeking material from the J.J. Abrams/Kelvin Timeline will be out of luck! Modiphius will also be producing a line of 32mm miniatures, including characters and crews, boarding parties, and away teams, as well as a selection of geomorphic tile maps.
We certainly look forward to experiencing all new tabletop adventures in the Final Frontier! Until then, be sure to swing by Modiphius' booth at GenCon for more information, and may STAR TREK ADVENTURES live long and prosper!