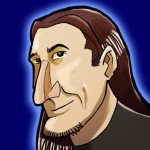 From the studio that brought you CORALINE, PARANORMAN, and THE BOXTROLLS comes KUBO AND THE TWO STRINGS!
Ever since we saw those first few frames of CORALINE (2009), produced by Laika Entertainment out of Portland OR, we've all fallen for their unique style combining mind-blowing stop-motion animation with vibrant CGI. A few years ago, I had the great honor of working at the studio as the Puppet Coordinator on PARANORMAN (2012)! It was an incredible way to pull back the curtain and see how the sausage gets made, and I really enjoyed my time there.
Laika's latest feature is KUBO AND THE TWO STRINGS, which hits US theaters on August 19th. And now we have a brand new, eye-popping trailer for you all, so check it out!