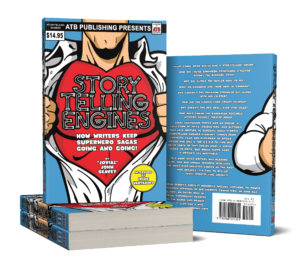 We're very proud to announce that John Seavey's STORYTELLING ENGINES – a unique look at the history of superhero comics storytelling – will feature an afterword by Irene Vartanoff, author (the Temporary Superheroine series), prolific DC Comics letter writer, and Marvel & DC writer and colorist.
We're very grateful to Irene for contributing an afterword to STORYTELLING ENGINES, and we also want to thank Jacque Nodell (www.sequentialcrush.com) for putting in a good word for us with Irene. You can read more about Irene's career at her website, www.irenevartanoff.com.
STORYTELLING ENGINES will be released on May 16, 2018. Pre-orders are open now at www.atbpublishing.com/story.