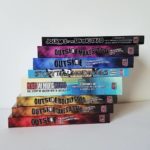 Happy New Year, ATB readers! We have some exciting projects in the works for 2019, and we can't wait to share all the details with you!
Your support of our small press is what keeps the books coming year after year, and we're so grateful for your enthusiasm and love. As a way of saying thanks, this year we're marking all of our books 15% off cover price during the pre-order period. The price will reset to full retail on release day.
Ordering in advance of publication helps us out immensely in many ways. It gives us a better picture of demand so that we can adjust our print run accordingly, and helps cover at least part of the upfront printing cost. All of our books are offset printed, which means we're printing a full run ahead of book release rather than digitally on demand. We've found this is the only way we're able to maintain a satisfactory level of quality in our books.
Additionally, we don't sell our books on Amazon, which means that orders coming in through our website are our primary source of sales. This is intentional on our part. Selling through the Amazon platform may work for some, but it's not for us. We've found that their policies are not advantageous for an independent press, and we would prefer to focus our distribution efforts elsewhere.
To that effect, we're working on some wider distribution plans, and with our catalog growing this year, we hope we'll have more news to share about that in 2019!
Thank you again for your support, and happy reading!