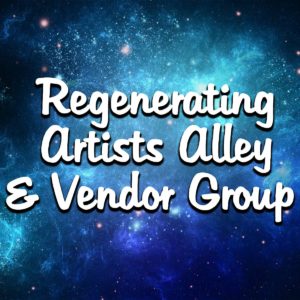 As many of you may already know, this year's ReGeneration Who convention was canceled less than a week before the scheduled event. A lot of the artists and vendors are left with empty pockets and full inventories, so we're banding together to try to help each other signal boost.
Some of the artists and vendors have existing online shops, others do not. So, we worked with Katie from Nerdfelt Tea to create a Facebook group to centralize all the information in order to assist those who can only sell by emailing an invoice to an interested customer.
You can find the Regenerating Artists Alley and Vendor Group on Facebook. If you're a Facebook user, the best way to support all the artists and vendors is to join this group and share it with your friends. The more, the merrier!
We've been asked by some who want to spread the word to compile a list of shop links. Here are links to all the artists and vendors participating in this virtual table sale. For those who do not have an online shop, the link will take you to their album in the Facebook group.
As You Wish Accessories – https://squareup.com/store/rebecca-karas-as-you-wish-accessories/
ATB Publishing – https://www.atbpublishing.com
Beef Jerky Guy – https://www.facebook.com/media/set/?set=oa.823824384649564&type=3
Bleed Geeks – https://www.etsy.com/shop/bleedgeeks/
Charlotte Mann – https://www.etsy.com/shop/CharlotteMannArt
Corgasaur – https://www.etsy.com/shop/Corgasaur
Craftigurumi – https://www.etsy.com/shop/Craftigurumi
Eattoast Studio by Kelsey Wailes – https://www.etsy.com/ca/shop/eattoast
Em2a Studios – https://www.facebook.com/media/set/?set=oa.823133371385332&type=3
Felix Eddy – The Clockwork Sphinx – https://www.etsy.com/shop/theclockworksphinx
Geek Girls' Castle – https://www.etsy.com/shop/GeekGirlsCastle
JessieSeamsSewGeeky – https://www.etsy.com/ca/shop/JessieSeamsSewGeeky
MayFaire Moon Corsets & Costumes – http://mayfairemoon.com/
Nerdfelt – https://www.nerdfelt.net/
Nerdy Keppie – https://nerdykeppie.com/
No Strings Attached Custom Puppets – https://twitter.com/kathodavid
Noble Intentions Ceramics – https://www.etsy.com/ca/shop/NobleIntentionsPots
Not Your Grandmom's Bags – https://www.etsy.com/shop/NotYourGrandmomsBags
Paramedic Zombies/Tardis Worx – https://www.facebook.com/media/set/?set=oa.822939504738052&type=3
Peter Vinton Jr – Art and Illustration – http://www.petervintonjr.com/
Pixel Who – https://www.etsy.com/shop/PixelWho?coupon=FYREFESTWHO
Quiltoni – https://quiltoni.com/
Ripping It Down – https://www.etsy.com/shop/RippingItDown
Science Fiction Continuum – http://www.sfcontinuum.com/
Simon Fraser – http://simonfraser.net/
Skull N Bones – https://www.etsy.com/ca/shop/SkullNBonesJP
SkyFire Fox Arts – http://skyfirefox.net/
Sun Dame – https://www.etsy.com/shop/Sundame
Wibbly Wobbly Timey Wimey – https://www.wibblywobblytimeywimey.com/