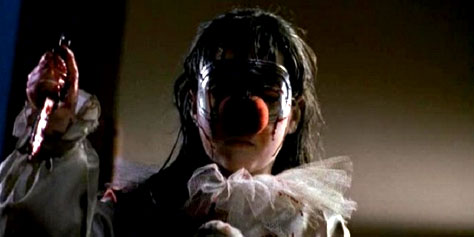 THE PATIENTS
Director: Dwight H. Little
Writers: Alan B. McElroy, Danny Lipsius, Larry Rattner, Benjamin Ruffner
Starring: Donald Pleasence, Ellie Cornell, Danielle Harris, Beau Starr, George Wilbur
THE PATHOLOGY
On a rainy night in 1988, the Shape is about to be moved from the medical facility where he lay comatose for ten years since the concluding moments of HALLOWEEN II. One medic signs for the bandaged Michael Myers while another checks his blood pressure. They're ready to move him. Then the music blasts from the screen – HALLOWEEN is back! It's just like going home again.
THE PROGNOSIS
One of the greatest fanboy thrills of my teen years was sitting in a darkened movie theater and seeing two doomed paramedics moving the dormant body of Michael Myers. HALLOWEEN III, while a fun experiment, was almost the death of this film series; no Myers was a no go at the box office. Finally, in 1988 producer Moustapha Akkad resurrected the Shape and reunited him with his tireless pursuer, Dr. Sam Loomis, once more played by Donald Pleasence. There was no chance Jamie Lee Curtis would return to the series – her career had to take a few more downturns before that would happen – but Loomis found allies in a new sheriff (Beau Starr) and a fresh bunch of young Haddonfield natives led by Rachel (Ellie Cornell) and her foster sister Jamie (Danielle Harris). Did I mention that Jamie is the late Laurie Strode's daughter and Michael Myers' niece? Yes, Michael has a new family member to kill, and the stage is set for good old-fashioned HALLOWEEN mayhem!
Michael has a new family member to kill, and the stage is set for good old-fashioned HALLOWEEN mayhem!
HALLOWEEN 4 ages pretty well. There are likable characters in Rachel and Jamie, and Loomis – now more deranged in his obsession with Myers and with scars from the hospital explosion at the end of HALLOWEEN II – has a chance to grow into a more complex and magnetic foe for the Shape, a Gerard to Myers' FUGITIVE. Musically, the theme tune and "Laurie's Theme" are used frequently and well, further tying this new installment into the HALLOWEEN universe. Recapturing some of the tone of the original, there's only a small amount of actual blood or gore. Arguably the most violent sequence involves a rowdy bunch of Haddonfield redneck vigilantes incorrectly identifying a fellow gun-toter as Myers in the movie's funniest scene. George Wilbur is also a decent enough Myers, although he lacks the distinctive body language created by Nick Castle and Dick Warlock.
The worst part? That mask! So begins what HALLOWEEN fans often consider the ultimate cross they must bear through every new sequel – enduring an endless parade of completely inaccurate mask sculpts that utterly fail to recapture the simple terror of the William Shatner white-face that started it all. The expressionless, way-too-clean version seen here lacks the scowl and twisted mouth of the original, robbing Myers of his trademark demonic visage…and what's with the friggin' '70s sideburns? Now that's pure evil! (And yes, I know he acquires this new mask in town early in this movie, but with an icon like the Shape, there's no reason to reinvent the wheel. If Haddonfield can keep stocking the damn things despite all the history that builds up around them – surely residents must cringe to see the face of their own local Boogeyman in stores every Halloween – they can at least stock the right style!) Let's not even talk about the awful shot at the school with the platinum blonde version of the mask that looks like a poorly executed tribute to Ben Tramer from HALLOWEEN II.
The concluding scene promised an all-new direction for the series that might have been fascinating but was never meant to be.
The ending is a brilliant parallel of events at the start of the first HALLOWEEN, and Loomis' tortured screaming should send a chill down any fan's spine. Unfortunately, the concluding scene also promised an all-new direction for the series that might have been fascinating but was never meant to be. Moviegoers were quite happy with HALLOWEEN 4, but they definitely wanted Michael Myers back at fighting strength for 5. There was no room for a new Shape, and Akkad wasn't about to disappoint his audience. But soon enough, fans would rue the day they clamored for the revenge of Michael Myers…
RATING

HELP US BY ORDERING THE MOVIE VIA THIS LINK!
ALL THE OTHER FILMS IN THE SERIES:
HALLOWEEN
HALLOWEEN III: SEASON OF THE WITCH
HALLOWEEN 5: THE REVENGE OF MICHAEL MYERS
HALLOWEEN 6: THE CURSE OF MICHAEL MYERS
HALLOWEEN H20: TWENTY YEARS LATER