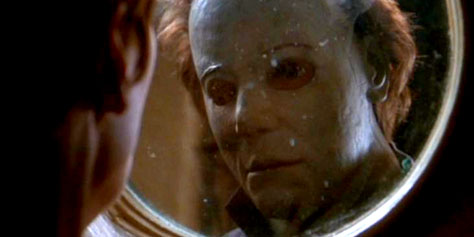 THE PATIENTS
Director: Steve Miner
Writers: Robert Zappia, Matt Greenberg
Starring: Jamie Lee Curtis, Adam Arkin, Michelle Williams, Adam Hann-Byrd, Jodi Lyn O'Keefe, Janet Leigh, Josh Hartnett, LL Cool J, Joseph Gordon-Levitt, Chris Durand
THE PATHOLOGY
Twenty years after the Night He Came Home, Keri Tate (Jamie Lee Curtis), alcoholic school marm and dead ringer for a girl who was terrorized one horrible Haddonfield Halloween night, must face her demons in the form of her brother-turned-demonic killer. Can Keri – sorry, Laurie Strode – save herself and her son (Josh Hartnett) as well as his friends when a ghostly Shape from her past returns to kill again?
THE PROGNOSIS
We never thought it would happen. Jamie Lee Curtis – screamer turned star – returned to the series that made her a modern horror star just in time for the twentieth anniversary. Perhaps it was fate that Curtis would be back – yes, fate definitely caught up with her here. Fate never changes.
H20 was a laudable attempt to bring some mainstream gloss to the B-movie slasher series, and Curtis' return garnered this seventh installment considerable media coverage. Sadly, Donald Pleasence had since departed this mortal realm, so Curtis' rematch with Michael would happen without the sorely missed presence of Dr. Sam Loomis.
Of course, the previous three movies had established Laurie as dead and mired themselves in a convoluted continuity of their own that nearly buried the series. The creators decided to take a chance with fan sensibilities and jettison everything that happened in HALLOWEEN 4-6. Although the resulting anniversary sequel plays like a love letter to fans of the original two films, there are problems. Why was the opening voice-over, a word-for-word re-enactment of a speech first performed by the late, lamented Pleasence, re-recorded with a younger man trying to replicate Pleasence's distinctive tones. Surely they could have extracted the audio. Rights issues? Too much background noise or interfering music?
Although this anniversary sequel plays like a love letter to fans of the original two films, there are problems.
Some might get a rush out of hearing the classic Carpenter-penned HALLOWEEN theme rendered with a full orchestral sound, but after the initial excitement of this mainstreaming installment dies down, rewatching exposes all the flaws. In a move towards broader audience acceptance, the gorier aspects of the earlier films were toned down, but so too went much of the suspense and tone. The movie feels more like a generic action thriller than a horror/slasher movie. At best, it's an uncomfortable marriage of two approaches, and while the killings aren't as intense, they do seem more tragic and almost unbearably sad in the style of HALLOWEEN homage series SCREAM, in particular when one girl is savagely stabbed multiple times while pinned to the ground, and in another when a really nice guy gets the knife-in-the-back-elevator-ride that Michael once gave a nurse in HALLOWEEN II.
While none of the new kids are particularly impressive, they scream when they need to and run when they have to. You might stifle a giggle when Curtis stands menacingly in shadow and screams Michael's name at the top of her lungs in challenge as the theme kicks into high gear; it's a bit too over the top. Curtis' overwrought performance as the alcoholic Strode grates on the nerves after a while, and by the end you may be hard-pressed to decide which sibling you want to root for. Let's see – who's the likeliest one to come back in several more HALLOWEEN movies? I know where I'm putting my money…
By the end you may be hard-pressed to decide which sibling you want to root for.
As for the eternal mask issue, the filmmakers were unhappy with their new mask after shooting had already begun. The replacement, while an improvement that comes as close to the original as we've seen so far, still shares screen time with the crappy first version due to ham-fisted editing.
Finally, there's that ending calculated to elicit a huge audience cheer, but it only holds up if this is truly the final HALLOWEEN. Since we know it's not, it just becomes a matter of figuring out how they plan to get around the seemingly inescapable conclusion. Fans who had read an earlier script for that last scene, circulated around the 'net, were already ahead of the game. We all knew the Shape would return…but would Laurie be back to face him again?
RATING

HELP US BY ORDERING THE MOVIE VIA THIS LINK!
ALL THE OTHER FILMS IN THE SERIES:
HALLOWEEN
HALLOWEEN III: SEASON OF THE WITCH
HALLOWEEN 4: THE RETURN OF MICHAEL MYERS
HALLOWEEN 5: THE REVENGE OF MICHAEL MYERS
HALLOWEEN 6: THE CURSE OF MICHAEL MYERS