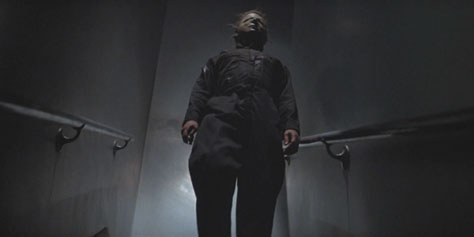 THE PATIENTS
Director: Rick Rosenthal (and John Carpenter)
Writers: John Carpenter, Debra Hill
Starring: Donald Pleasence, Jamie Lee Curtis, Lance Guest, Pamela Susan Shoop, Charles Cyphers, Hunter von Leer, Nancy Stephens, Gloria Gifford, Leo Rossi, Ford Rainey, Dick Warlock
THE PATHOLOGY
The Night He Came Home continues as Dr. Loomis pursues the supernatural Shape to Haddonfield Memorial Hospital, where a final showdown ends Michael Myers' reign of terror at great cost…
THE PROGNOSIS
I saw Michael Myers, AKA the Shape, descending a staircase in a television trailer for this movie when I was about ten or eleven years old. It was an extreme upward angle with Michael's Shatner mask in half-shadow, hair sticking out in every direction. The demonic image enthralled me; I had to see this movie! So it was HALLOWEEN II, not the first film, which introduced me to Haddonfield's unstoppable killer and his tireless pursuer, Dr. Sam Loomis. I found the movie at the first video store we ever visited, back when video rental was presented with all the trappings of an elite club. There was that striking pumpkin skull on the shelf of new releases at Barry's Video Station, and that night he was definitely coming home.
What may be my favorite moment in the series arrives as Loomis fires his warning shot and takes control of the night.
HALLOWEEN II is a mostly satisfying follow-up to a movie that had already achieved near-legendary status by 1981. The first good move was the opening; with a great dialogue sting launching into the best title sequence in the HALLOWEEN series (not to mention a wonderful use of the song "Mr. Sandman"), HALLOWEEN II follows Michael's rampage through the rest of that 1978 Halloween night. While Jamie Lee Curtis' Laurie spends most of the running time asleep, drugged, or otherwise incoherent – and wearing a horrific wig that doesn't begin to match her '78 hairstyle and color – Donald Pleasence more than picks up the slack ("I shot him six times!"). The kills are also more graphic this time around in order to compete with HALLOWEEN's many slasher competitors since 1978. An enticing scene set in a local school, suggesting that Michael has some unknown connection to and certainly awareness of ancient Celtic rites, is given no further attention (in this movie anyway) but sets up a chilling monologue by Pleasence on the unwavering primitivism of human nature (Loomis does mispronounce Samhain though; come on, Doc!). And then what may be my favorite moment in the series arrives as Loomis fires his warning shot and takes control of the night.
Despite the nostalgic fun and truly explosive finale that not only showcases Loomis as one of the coolest horror heroes of all time but also reveals Laurie's inexplicable sharpshooting skills, there's a lot wrong with HALLOWEEN II. It's surprisingly boring in long stretches, with most of it taking place in the most underpopulated hospital on the planet. The movie also has a disjointed sensibility indicative of post-production scrambling to save the film from total incoherence. If you watch the television edit (and you should), you'll be treated to extra bits that should surprise anyone that has only seen the theatrical cut. In fact, the 'new' last scene in the film is a shocking revelation about the survival of another key cast member that illuminates post-HALLOWEEN II Myers family continuity. Best to just turn on the TV version for the ending, though, as the rest of it shifts entire scenes back and forth until the whole mess of celluloid is tangled up in itself. Count yourself lucky if you can figure out why any one scene follows another in the TV cut; it's truly impressive in its sheer unwillingness to embrace the linearity of time.
The TV cut is truly impressive in its sheer unwillingness to embrace the linearity of time.
But I come to praise HALLOWEEN II, not to burn it. I still have a lot of affection for this first HALLOWEEN sequel. It continued the saga with a seamless transition from the first movie to the second, and it added a crucial bit of history between Laurie and Michael that may have been gratuitous but ultimately enabled future films to extend the story in intriguing directions. This is no GODFATHER PART II or BRIDE OF FRANKENSTEIN, but it is a good rematch between the Shape, Laurie, and Dr. Loomis, and the last we would see of all three of them for years to come.
RATING

HELP US BY ORDERING THE MOVIE VIA THIS LINK!
ALL THE OTHER FILMS IN THE SERIES:
HALLOWEEN
HALLOWEEN III: SEASON OF THE WITCH
HALLOWEEN 4: THE RETURN OF MICHAEL MYERS
HALLOWEEN 5: THE REVENGE OF MICHAEL MYERS
HALLOWEEN 6: THE CURSE OF MICHAEL MYERS
HALLOWEEN H20: TWENTY YEARS LATER