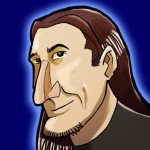 sav·ing throw (sā′vĭng thrō)
n.
1. In DUNGEONS & DRAGONS, a saving throw is an attempt to resist a spell, a trap, a poison, a disease, or a similar threat through the roll of a d20.
2. A group of players and GMs who, through a shared passion of RPGs and filmmaking, have banded together to create RPG content that we as fans would want to see.
The last few years have proven to be quite the renaissance for tabletop roleplaying games! While Wizards of the Coast stumbled a bit with the fourth edition of DUNGEONS & DRAGONS (although I still think it's a solid design, but YMMV), the latest iteration of the game has proven to be a stupendous success, currently ranked as the best-selling RPG on the market and outselling former juggernaut PATHFINDER (Paizo Publishing) by a wide margin!
As an off-shoot of this terrific hobby, a number of sites, blogs, webseries, and live-streaming game channels have popped up, and truly one of the best is the SAVING THROW SHOW created by filmmaker and gamer Dom Zook. We recently caught up with Dom to find out more about SAVING THROW and what they have in store for the upcoming GenCon 2016 event in Indianapolis, Indiana!
G2V: Dom, I know you're busy as all get -ut prepping for GenCon, but thanks for taking some time out to chat with us. Can you give us a little history of SAVING THROW? When and how did it all come together?
Dom Zook: SAVING THROW began in 2013 when Tyler Rhoades, Ben Dunn, and I began playing D&D again. As Ben had never played before, and Tyler and I were a few years from our heyday, we went searching for some cohesive tutorials online. Nothing really fit the bill, so we decided to produce our own! First, we made eight episodes of a PATHFINDER tutorial covering the basics. From there we began playing in livestreamed games, playing everything from PATHFINDER to D&D, CALL OF CTHULHU, and STAR WARS. Now we stream five days a week on Twitch and YouTube, with more shows being added all the time!
Can you share any plans for the future of SAVING THROW?
We're very excited to announce a new series starting Saturday, August 6th at 5pm PDT, exploring the brand new PHOENIX DAWN COMMAND game by veteran designer Keith (GLOOM, EBERRON) Baker. We'll also be producing an exclusive tutorial series of this system. We're looking to expand our slate of shows to add more tutorial content and really get back to our roots. Additionally, we're releasing an album of songs that Amy Vorpahl has written and produced with the help of amazing musician Maxi Morales out of Brazil. Lots of the classic songs from BARKY'S BRIGADE will be on the album. That's hitting this Fall!
If you had unlimited resources, what would you love to do with SAVING THROW? And if that means a BARKY'S BRIGADE feature film, what would be your dream cast (and I guess we'll just assume that Amy would be playing the part of Arqe Barky)?
Oh man! When Tyler, Ben, and I initially concepted SAVING THROW, our intention was to edit together the final gameplay into a live-action event with interspersed scripted dialogue to tie things together. I'd still love to go back and tell the BARKY'S story that way. As for casting a movie, I can't imagine anyone other than our players playing their own characters, but a part of me would love to see Christophe Waltz as Udo Meinhardt!
That's one casting choice I think we could all get behind! So what is the current schedule for SAVING THROW and where can people watch?
The whole schedule can be found online, or just log in to our Twitch channel to see this week's line-up and to watch! We also stream to YouTube, so there are a number of ways to catch us!
You guys have some big plans for this year's GenCon; can you tell us more about them?
This is the largest contingent of Saving Throwers that we've sent to GenCon. Not only will I be there, but Tom Lommel (GM of Monday Night DUNGEON FIGHT, and Udo Meinhardt from BARKY'S BRIGADE), Amy Vorpahl (Arqe Barky herself), Tyler Rhoades (Jopper Grow from BARKY'S and producer), Gaurav Gulati (Ruckus P. Fizzlebottom from BARKY'S, Grango from NEVER TELL ME THE ODDS and editor extraordinaire), GM Mason McDaniel (GM of BARKY'S BRIGADE), Shawn Graham (GM of our DARK SUN series, and Donovan Belter from BARKY'S), and Ben Dunn (Thad from BLACK BAG, and host of our PATHFINDER tutorial) will all be there as well!
We'll also be playing in a live recorded BARKY'S BRIGADE show on Saturday at 6pm in the Westin Grand Ballroom V. It will be similar to our livestreamed shows; in this version, the audience will be able to influence our game! We'll be giving out tokens and sheets of paper that will play a very important part in the game, and you can get official Barky Bucks (designed by @d20monkey), which you can exchange for tokens! Basically we're bringing the normal stream show to an IRL audience. It's going to be a blast, and you can buy tickets for only $2! Steal.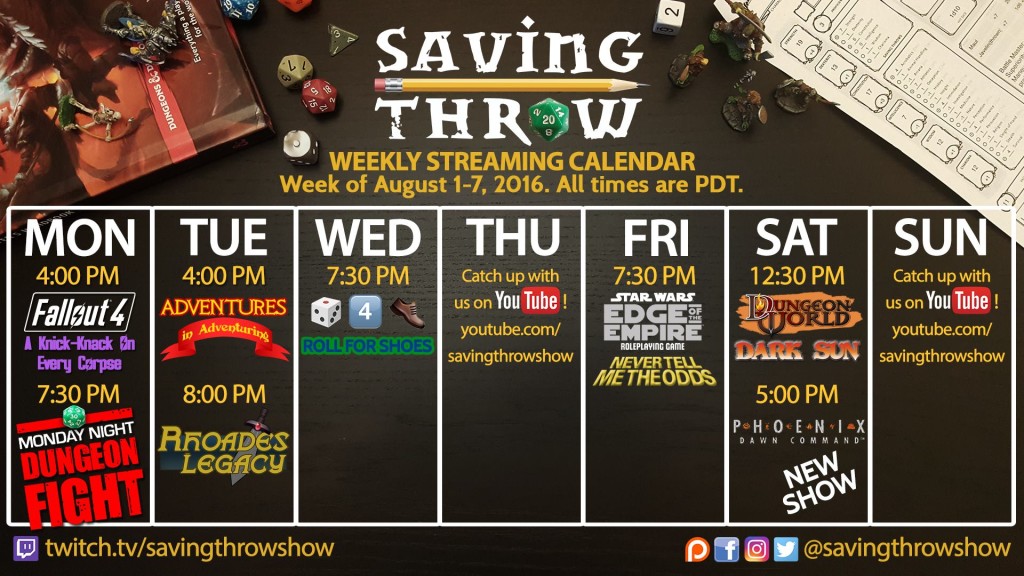 Thank you so much, Dom, and best of luck with SAVING THROW! We look forward to meeting up with the whole gang at GenCon!
See you there!