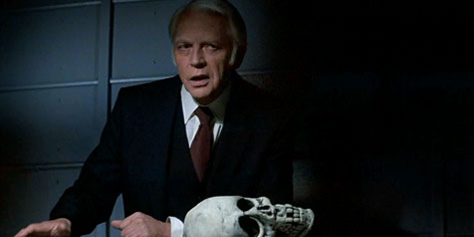 THE PATIENTS
Director: Tommy Lee Wallace
Writers: Tommy Lee Wallace, Nigel Kneale, John Carpenter
Starring: Tom Atkins, Stacey Nelkin, Dan O'Herlihy, Jamie Lee Curtis (the voice of Santa Mira), Tommy Lee Wallace (the voice of Silver Shamrock)
THE PATHOLOGY
The petite but buxom Ellie Grimbridge (Stacey Nelkin) teams up with troubled alcoholic physician Dr. Dan Challis (Tom Atkins) to investigate the disappearance of her father. There's a peculiar little toy factory churning out the coolest masks this Halloween, and every kid wants one. So why do the strangely emotionless minions of Silver Shamrock founder Conal Cochran (Dan O'Herlihy) seem so hellbent on murdering anyone who tries to uncover the secret behind their special Halloween promotion? And why does a kindly Irishman like Cochran have a full-size piece of Stonehenge sitting in a warehouse in company town Santa Mira (a nice reference to '50s paranoid sci-fi tale INVASION OF THE BODY SNATCHERS)? What demonic fusion of modern electronics and ancient Druidic rites will enable Cochran to resurrect the "true meaning" of Halloween and have a last laugh on the giggling trick-or-treating children of this great land of ours? Ooh, that Cochran! He's one nasty warlock!
THE PROGNOSIS
Wait a minute! Where's Dr. Loomis? Where's Laurie? No MICHAEL MYERS?! What the f***!
This movie has suffered much over the years. I admit that Michael Myers fan that I am, I too used to savage this film for committing the heinous crime of bearing the HALLOWEEN title and numbering but leaving out the horror icon himself. But with age comes maturity; I can now evaluate this for what it is – a self-contained Halloween-themed tale that attempted to take the series into anthology territory. It didn't succeed, but it was an admirable effort. It's also a damned nifty little chiller with a creepy Carpenter electronic score and a superb hammy turn by O'Herlihy. At times, Cochran is so giddy about the prospect of murdering millions of children that you just can't help but root for the guy (well, maybe not), and that's largely due to O'Herlihy's delightful performance.
HALLOWEEN III is a damned nifty little chiller with a creepy Carpenter electronic score and a superb hammy turn by Dan O'Herlihy.
This installment ratchets up the gore and viciousness, with both adults and children stricken with electronically-enhanced magic and turned into exploding bags of flesh filled with bugs and snakes and all sorts of creepy crawlies. Eww! There's also a drill to the temple, a hands-on decapitation and a few androids leaking yellow ichor, but nothing beats that early scene of Ellie's father having his skull crushed. While we're talking uncomfortable visuals, there's the otherwise chaste sex scene between Nelkin and the craggy but heroic Tom Atkins, who gets to put his beefy hands all over the poor girl in a sequence that should give you more chills than any horrific Halloween trick Cochran could cook up.
As long as you're willing to forget that this is part of a series at all, which it really isn't, then you can enjoy SEASON OF THE WITCH on its own terms. It's a great homage to UK horrorfests of the sort you might see on an old DOCTOR WHO (which regularly featured small towns controlled by ancient evil back in the 1970s, as did much of British fantasy television), not least because it was actually written by QUATERMASS creator Nigel Kneale. It also makes good use of Carpenter's repertory group, musical skills, and talent for staging suspenseful sequences capped by sickening, bloody deaths.
Just imagine if Cochran had access to cable or the Internet (there's your remake premise)!
Everything leads up to a Bondian final confrontation in Cochran's factory, and while the warlock's grand plan crumbles around him, Challis discovers that saving the world isn't as easy as movie heroes make it seem. Then again, he has only three networks to call as he struggles to get the deadly Silver Shamrock commercials off the air; just imagine if Cochran had access to cable or the Internet (there's your remake premise)!
Although Carpenter has often been quoted as listing THE THING, PRINCE OF DARKNESS, and IN THE MOUTH OF MADNESS as his three "End of the World" movies, this dark fairy tale comes damn close to an apocalypse itself. Can you imagine the clean-up on November 1st? Ugh. Now let's all sing along: "One more day to Halloween, Halloween, Halloween! One more day to Halloween, Silver Shamrock!" Watch the magic pumpkin…watch…
RATING

HELP US BY ORDERING THE MOVIE VIA THIS LINK!
ALL THE OTHER FILMS IN THE SERIES:
HALLOWEEN
HALLOWEEN 4: THE RETURN OF MICHAEL MYERS
HALLOWEEN 5: THE REVENGE OF MICHAEL MYERS
HALLOWEEN 6: THE CURSE OF MICHAEL MYERS
HALLOWEEN H20: TWENTY YEARS LATER