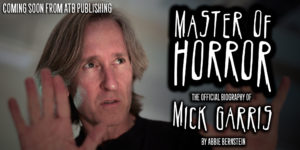 We announced this earlier on social media, but we're very proud to share the news that ATB Publishing will be releasing MASTER OF HORROR: THE OFFICIAL BIOGRAPHY OF MICK GARRIS. Written by Abbie Bernstein (author of The Art of Mad Max: Fury Road, journalist and filmmaker), the book will feature interviews with Mick's colleagues from in front of and behind the camera, plus rare and previously unpublished photographs. Some notes on Mick from the author:
Film/television creator/producer/director/novelist Mick Garris epitomizes the phrase Master of Horror. Garris not only initiated the famous Masters of Horror dinner parties with guests including Clive Barker, Guillermo del Toro, the late Tobe Hooper, and more, he made Masters of Horror as a two-season anthology series for Showtime. Garris is perhaps the premiere director of Stephen King for the screen. In addition to directing/producing and often co-writing the miniseries adaptations of King's The Stand, The Shining, and Desperation, Garris also directed King's first original screenplay, Sleepwalkers. He has also adapted works by Clive Barker and other noted genre writers. Garris created and executive produced the upcoming horror anthology feature, Nightmare Cinema, as well as directing one of its segments. Garris is also one of the executive producers of the Angelina Jolie-directed feature Unbroken, which depicted the World War II saga of Olympic runner Louis Zamperini, Garris' father-in-law. In this book, Garris will take us behind the scenes on many of his best-loved projects via detailed interviews with him and selected co-workers. He will also discuss his early years as a publicist, when his duties included operating R2-D2 at the Oscars for the first Star Wars.
More details will be forthcoming.