Podcast: Download (Duration: 56:00 — 52.7MB)
Subscribe: RSS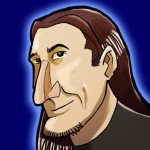 Over the July 4th holiday weekend, I was honored to be a program participant at the Westercon convention, an annual literary science fiction convention that travels around the western states from year to year. For 2016, Portland OR won the bid to host Westercon 69, which was convenient for me since I live just a few minutes' drive from downtown!
I sat on a few panels, including one near and dear to my heart titled "The Wild and Wonderful Weird West" that took place from 6-7pm on Saturday night (July 2nd). My esteemed co-panelists and I discussed everything from real Old West history to THE WILD, WILD WEST (TV series and motion picture), BACK TO THE FUTURE PART III, gaming, and of course the late and very lamented series, THE ADVENTURES OF BRISCO COUNTY JR., starring the one and only Bruce Campbell!
The panel runs just under an hour and I hope you all enjoy it!
If you would like to hear more of this kind of thing, please let me know via Twitter: @sawoodard or E-mail: <contact@g2vpodcast.com!